Metal Roofing Contractor in New Rochelle & Greenwich
Install a roof that can last a lifetime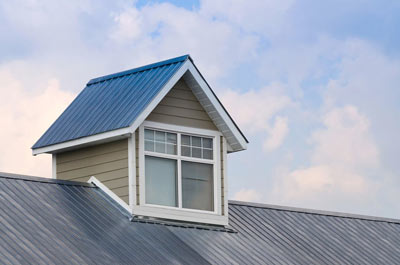 Low-maintenance life. Metal roofing is becoming more popular among homeowners looking for superior durability & energy efficiency.
When you install a metal roof on your home, chances are good that it will be the last roof you ever install. A metal roof provides unmatched durability, lasting 2 to 3 times longer than asphalt roofing. Today's metal roofing shingles are designed to look like traditional materials such as asphalt shingle, clay tile, cedar shake, and slate. Double R A Construction Corp offers a wide variety of metal roofing styles and colors to match your home.
If you're interested in replacing your current roof, call us at 1-844-385-9654 or click the button below to schedule a roof inspection today. We provide a free estimate with every consultation in Stamford, Yonkers, New Rochelle and throughout Westchester & Fairfield Counties.
Benefits of a metal roof
Long-lasting investment: Although the initial cost for a metal roof is higher than most other roofing materials, you'll save money in the long run. A metal roof can last a lifetime, unlike an asphalt shingle roof which typically requires reroofing every 10 to 20 years.
Styles for every home: Metal roofing comes in a variety of styles, colors, and finishes. If you want the genuine look of slate, shake, tile or shingle, in a more durable solution, metal roofing may be a great option.
Energy efficient: Metal roofing reflects heat to reduce heating and cooling costs year round.
Long warranties: Most metal roofing comes with a 30 to 50-year warranty, depending on the manufacturer. Contact Double R A Construction Corp to learn more about the metal roofing products we install and the warranties provided.
Common misconceptions about metal roofs
Lightning: A metal roof does not increase the likelihood of lightning striking your home. Metal roofing isn't flammable or combustible and is, therefore, a desirable option to protect your home against severe weather.
Rust: Most metal roofs have a metallic coating that prevents rust from forming. Paint can be applied over the coating to provide the color you desire.
Noise: It is commonly thought that a metal roof will be noisier than other types of roofing. When installed with proper sheathing, a metal roof can actually silence noise from rain and hail more than other roofing materials.
Dents: Most metal roof products are designed to withstand hail, high winds, and heavy snow, year after year. Metal roof systems have a 150-mph wind rating, which is equal to an F2 tornado.
Get a free estimate for your roof today
The cost of your metal roof depends on the style of roofing and your home's pitch. If you're interested in a metal roofing system, contact us to request a no-obligation consultation and we will provide you with a free estimate for professional installation. Trust the experts at Double R A Construction Corp for all your roof replacement and roof repair and maintenance needs in White Plains, Norwalk, Greenwich, Ossining, Yorktown Heights, New Canaan, Scarsdale, and nearby.
Looking for a price? Get a no cost, no obligation free estimate.