Expert Siding Installation in Yonkers and New Rochelle
Re-side your Stamford home with beautiful, durable siding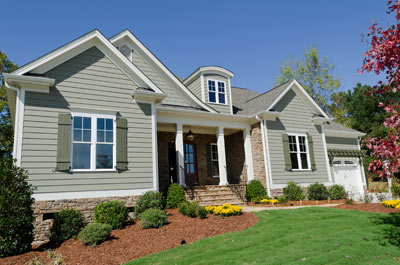 Value without compromise. Vinyl siding provides the look of wood without the costly maintenance. With vinyl, you won't need to spend your time scraping, staining or painting.
The right siding can make all the difference. When installed properly, siding can protect your home from the weather, lower your energy bills and improve your home's curb appeal. Depending on what's most important to you, whether it's style, color, durability, upkeep or all of the above, Double R A Construction Corp can help you select the best siding option for your home. With professional installation, we can deliver exceptional appearance and performance. We install a variety of siding styles from the nation's leading manufacturers.
To request a free siding estimate, call us at 1-844-385-9654 or click the button below. We are your trusted siding contractor in Yonkers, Stamford, New Rochelle, White Plains, Mount Vernon, and nearby.
Products
Headquartered in Valley Forge, PA, CertainTeed is a leading North American manufacturer of building materials and specializes in the production of high quality roofing and other materials including vinyl siding, trim, fence, railing, decking, insulation, gypsum, and ceiling products.
The Perfect Balance of Beauty and Performance
CertainTeed's complete selection of exterior product options is tailor-made to take creative advantage of the exciting mix-and-match approach to exterior home design – combining various products, styles, and colors to create genuinely unique exterior designs.
From historic to modern to timeless, each project has its unique design challenges. CertainTeed's wide variety of styles and textures empower you to select the product that will deliver the architectural accuracy and beauty required to meet every project's needs.
Shakes & Shingles
Cedar Impressions Sawmill Shingles
Cedar Impressions Perfection Shingles
Cedar Impressions Rough-Split Shakes
CedarBoards Insulated Siding
Monogram & Monogram XL Vinyl Siding
Board & Batten Vertical Siding
Chamfer Board Vertical Siding
CertainTeed Soffit
CertainTeed Vinyl Carpentry
CertainTeed Restoration Millwork
CertainTeed Finishing Touches
Sustainability
CertainTeed's siding products perform quite favorably against the competition, including vinyl, aluminum, and natural building products for environmental and economic impact. All the information is compiled by the National Institute of Standards and Technology (NIST) and their Building for Economic and Environmental Sustainability (BEES) software program.
Understand the role of CertainTeed Polymer Siding and Vinyl Siding, meet Green Building Standards CertainTeed Cedar Impressions Siding, and Vinyl Siding are low maintenance exterior cladding materials. They require no painting or caulking and only occasional washing with soap and water, thus contributing to the sustainability of any project.
Headquartered in Valley Forge, PA, CertainTeed is a leading North American manufacturer of building materials and specializes in the production of high quality roofing and other materials including vinyl siding, trim, fence, railing, decking, insulation, gypsum, and ceiling products.
CertainTeed Façade Stone
Welcome Guests to your home with the warm and inviting look of stone. Take your home's exterior to a new level with the CertainTeed façade Stone Siding option. This manufactured architectural stone veneer delivers the beauty and craftsmanship of natural Ledgestone in an affordable, easy-to-install panelized system. The classic appeal of CertainTeed STONEfaçade™ enhances any architectural style and complements all CertainTeed cladding material already on your home. Using low-maintenance STONEfaçade as a primary cladding or an accent will increase your home's visual curb appeal and potential value.
Moisture Management:
CertainTeed STONEfaçade™ features the industry's only fully-integrated rain screen, providing additional structural support and ample drainage from top to bottom for outstanding moisture management and protection of your most important investment.
Before and Afters
Before

After

A complete siding replacement on this home in Yonkers, New York by Double R A Construction Corp.

Products used were CertainTeed Monogram Vinyl siding in Double 4" style in Granite Gray Color

Before

After

A total siding replacement in CertainTeed Monogram D4 vinyl siding in Granite Gray by Double R
A Construction Corp.

Before

After

A great new look for this classic home in Bronxvile, NY. The homeowner wanted a classic look with virtual maintenance free siding. He called Double R for an estimate for siding that would meet his two demands. He got both with CertainTeed's Cedar Impressions 7" Perfections in Charcoal. We installed the siding professionally and the home owner couldn't be happier.
Choose the right siding for your home
Your home's siding is constantly exposed to Mother Nature. That's why it's important to choose a siding product that's able to withstand the elements and look great for years. We offer siding products for every home and budget. Below are the siding materials we typically install.
Vinyl siding: The most commonly used siding, vinyl siding is durable, never needs painting, and won't be damaged by rot.
Fiber cement siding: Fiber cement siding has a natural wood texture and is resistant to rotting, warping, cracking and pests. Many manufacturers offer a 25 or 50-year warranty on fiber cement siding products.
Aluminum siding: Aluminum siding was introduced as a cost-effective alternative to wood siding. Aluminum requires little maintenance and is available in a wide variety of styles and colors. The downsides of aluminum siding are that it dents easily and can fade over time.
Wood siding: Real wood siding has a timeless look that many manufacturers try to mimic using other materials. While wood siding is environmentally friendly and easy to replace, it requires much more maintenance than other siding materials such as vinyl.
Customer Reviews
By Jack S. from Scarsdale, NY
By Elisabeth B. from Scarsdale, NY
By Ann M. from Valhalla, NY
By Chuck O. from Port Chester, NY
By Stephen M. from Cos Cob, CT
By Marguerite C. from Putnam Valley, NY
Request a free quote for quality siding installation in NY and CT
If you are planning on selling your home or your siding is worn or damaged, we can help with all your siding replacement needs. There are several siding options and all have their advantages and vary in price. The siding contractors at Double R A Construction Corp will work with you to figure out the best solution for your home.
Contact us today to request your free estimate for your siding project in Greenwich, Mount Vernon, Norwalk, White Plains, Scarsdale, Ossining, Yorktown Heights, or nearby.