Roof Replacement & Installation in Yonkers & New Rochelle
Expert roofing install contractor in Stamford and nearby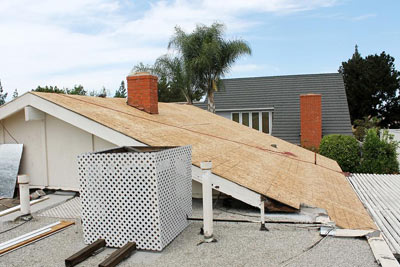 Minimal disruption. During your re-roofing project, we ensure that your house and landscaping will be properly protected.
Whether you have an urgent need for a new roof or your roof is too worn to properly protect your home, we can help. The top reasons for needing a new roof include leaks, wind damage, storm damage, and damage from fallen trees. A new roof can also increase your home's value. If you are building a new home and need a roof installed, we can help with that too.
For help with your roof repair or new roof installation needs, we recommend scheduling a free consultation, which includes a roofing cost estimate. Our expert roofing contractors can guide you through the process and make sure you get the best solution for your home. Our experts can help you choose the right shingle or roofing material to match the style of your home.
Call us at 1-844-385-9654 or click below to request your free estimate today! We provide roofing services in Yonkers, Stamford, New Rochelle, and surrounding New York and Connecticut areas.
Customer Reviews
By Joseph M. from Pelham, NY
By Frances N. from Dobbs Ferry, NY
By Karen And Demetrio E. from Hartsdale, NY
By Diane & Peter I. from White Plains, NY
By Howard L. from White Plains, NY
By Tom N. from Rye, NY
By Hitoki D. from Rye, NY
By Heinz M. from Rye Brook, NY
By Fred C. from Rye, NY
By Susan K. from Port Chester, NY
By Ken & Lynn K. from Port Chester, NY
By Robert S. from Cortlandt Manor, NY
Products
Headquartered in Valley Forge, PA, CertainTeed is a leading North American manufacturer of building materials and specializes in the production of high quality roofing and other materials including vinyl siding, trim, fence, railing, decking, insulation, gypsum, and ceiling products.
Many homeowners choose CertainTeed for their home installation or remodel. Here's why:
A broad selection of over 40 fade resistant colors to choose from
Shake and Shingle siding comes in a variety of blends and textures to achieve the style you want for your home
CertainTeed TrueTexture products are regarded as the most authentic wood look in the industry
Over 400 roofing options
Products are low-maintenance and long-lasting
CertainTeed Roofing
With the broadest range of colors and styles, you'll see that CertainTeed doesn't sacrifice style over substance. As a result, you still get a roof that's built with the highest quality material with a strong warranty. Our promise to our clients is: quality made sure, satisfaction guaranteed.
Since we have some of the best modern engineering techniques, our manufacturers can produce various specialty products across our shingle types with numerous benefits. Such as:
Fighting algae growth

Enhanced resistance to damaging hail

Reflective shingles

And more!
The Future
CertainTeed Roofing values sustainability. It is a journey, and we continue to evolve in our actions and our perspective. While trying to resource conservation such as water, waste, energy, etc., we are always looking to improve to meet the needs of today's market while looking for solutions and innovations for tomorrow. This means offering high-performing, affordable products that enhance users' comfort and well-being while reducing overall environmental impacts. In addition, as part of our pledge to product stewardship, our design teams use life cycle thinking to improve the sustainability of a product beginning with product inception.
Sustainability:
CertainTeed Roofing demonstrates leadership in environmental stewardship by recycling the vast majority of internal waste created during manufacturing and developing new products and systems specifically designed to improve energy efficiency and reduce the environmental footprint of homes and buildings.
CertainTeed introduced the Roofing Responsibly™ program to encourage homeowners and contractors to recycle old roof systems at the end of their useful life. We have developed a portfolio of unique, patented products and systems to meet market demand for more environmentally sensitive and energy-efficient products. Our Solaris™ shingle series and CoolStar® commercial products feature solar-reflective surfaces that reduce energy consumption and CO2 emissions. CertainTeed continues to add new photovoltaic roofing systems and is developing a portfolio of products to address the needs of that important, growing market.
We offer a variety of roof materials
Three-tab asphalt shingles
Architectural shingles
Concrete Tiles
Metal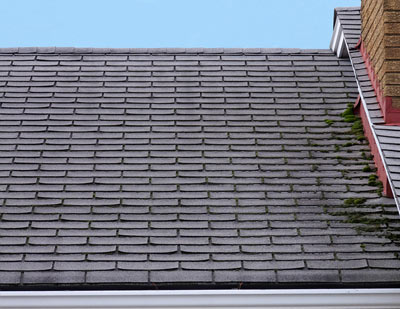 Dark streaks on an asphalt roof. Algae & moss growth on the roof not only looks bad, but it can also lead to roof damage.
Signs that your roof may need to be replaced
The roof is at least 20 years old
The roof looks old and worn
Dark stains from algae
Moss growth on shingles
Curling or cracked shingles
Bald spots where granules are missing
If your roof is old or you've noticed signs of a roof problem, we can inspect your roof to determine if it's the best time for a re-roof and provide you with a free estimate for the cost of a replacement or the services you need.
Installing a new roof can be cheaper in the long-term
While replacing damaged shingles is inexpensive, the downside is that the replacement shingles may not match the existing roof. If you have more significant damage that is confined to one side of the roof, partial reroofing is an option but can cost more in the long term. If an asphalt roof already has two or more layers, all layers will have to be removed before completing the partial re-roofing. If your roof needs to be replaced, you'll have to decide whether to install the new roof over the existing one or tear the old one off. A complete re-roof ensures that water-damaged sheathing will be found and repaired, preventing future issues. Our contractors will recommend the best options and provide a free quote for your project prior to beginning any work on your home.
Contact us today to schedule your free in-home consultation with a professional from Double R A Construction Corp. We are your expert roofing contractor serving Norwalk, Greenwich, Scarsdale, White Plains, Yorktown Heights, New Canaan, Ossining, and many surrounding areas.